UX research and design, narrative and concept development.
Many of New York's boroughs are considered as food deserts, meaning that they are not readily accessible to healthy and fresh produce.

How might we bring fresh and healthy produce to underserved communities?

Fresh Rover delivers not only fresh and easy meals to food deserts, but also gives families the ingredients necessary to prepare these meals at home. 
East Harlems was our area of focus. Our first step was to visit our locations and observe the area. In East Harlem, we found that there was not a lot of supermarkets, and it was, in fact, difficult to find fresh produce. We also observed that there were a lot of restaurants, but not a lot of variations in food choices. Many of the restaurants nearby were fast food restaurants like Panda Express, McDonald's, etc.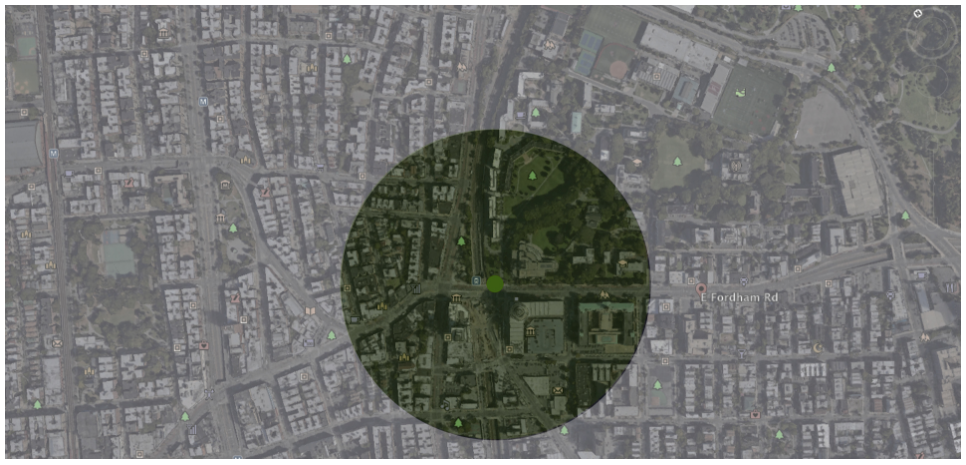 One of the resources that we thought would be helpful to our venture is the New York City Green Markets. We found out that Green Markets often threw away the leftovers they could not sell at the end of the day. With Fresh Rover, those leftovers can be put to good use by helping underserved communities. Green Markets are already doing their part in helping those in need. Most of the vendors participated in SNAP benefit programs like Double Bucks Tokens,  and Health Bucks,  which gave the buy $2 for every $5 they spent They also accept EBT payments for those who use them.
Meals can be bought as cooked fast food meals, or they can be ordered uncooked to be prepared from home Firstly, this brings quick options to those who are on a busy schedule, and need a quick meal during the day. In addition, we were inspired by meal kit services Blue Apron, or Plated for busy parents who do not have time to shop for fresh produce or meal prep.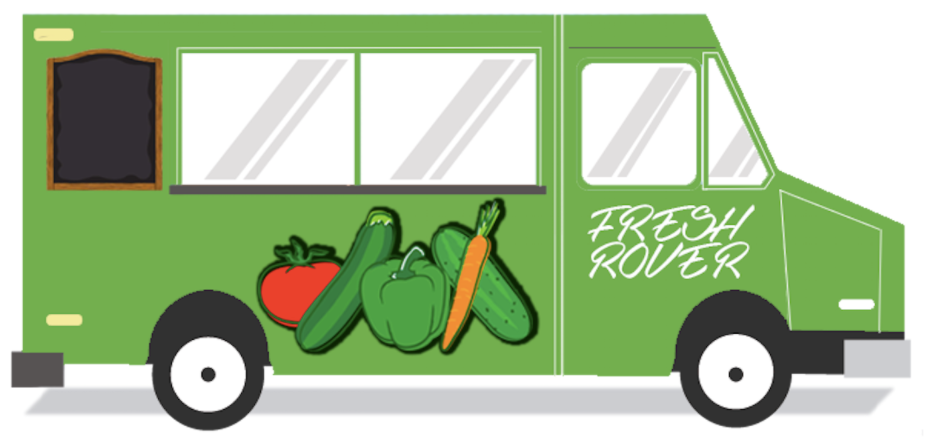 It is important for the truck to be able to deliver both cooked and uncooked meals because many people who live in underserved communities are too busy to travel for healthy options. For instance, our persona, Sandra, is a single mother with three children and works multiple jobs. This is the case for many families out there, and for Sandra, she does not have time during the day to travel to another borough to find fresh produce. In bringing the healthy options to underserved communities, people, like Sandra, can stop at a Fresh Rover to pick up quick meal boxes. This saves them a trip and the trouble of having to decide what ingredients to buy.
For people who are often too busy to stop, there is also an app that they can order from beforehand. This app allows the user to see the different menu options they can order for both cooked and uncooked meals. Once they put in their order, they can set a date to pick up their meal. The app also has a calendar which shows them which day the truck will be in their neighborhood. This is important because the truck will not be around everyday. Fresh Rover will only be out on days following the days that Green Markets are open. Since Green Markets only open on Mondays, Wednesdays, Fridays, and Saturday, Fresh Rovers only operate following those days. Lastly, there is a map, which shows the users the exact locations of where the Fresh Rovers will be.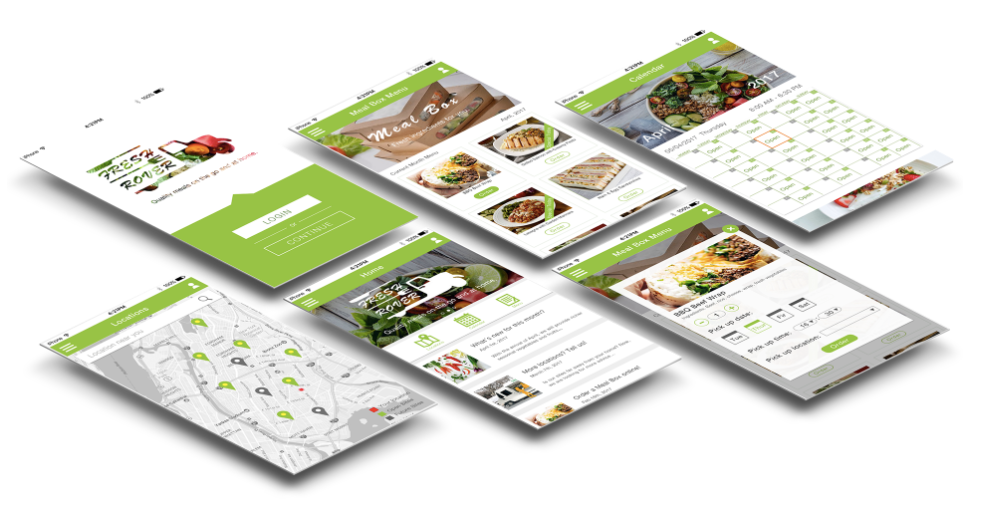 For people who do not have smartphones or access to smartphones, they can use the NYC Link to check locations and dates beforehand. Because of privacy issues, they will not be able to put in orders from the Links, but they will have access through the apps other features. Currently, NYC Links can make phone calls and charge people's phones, but why are we not putting it to its full potential?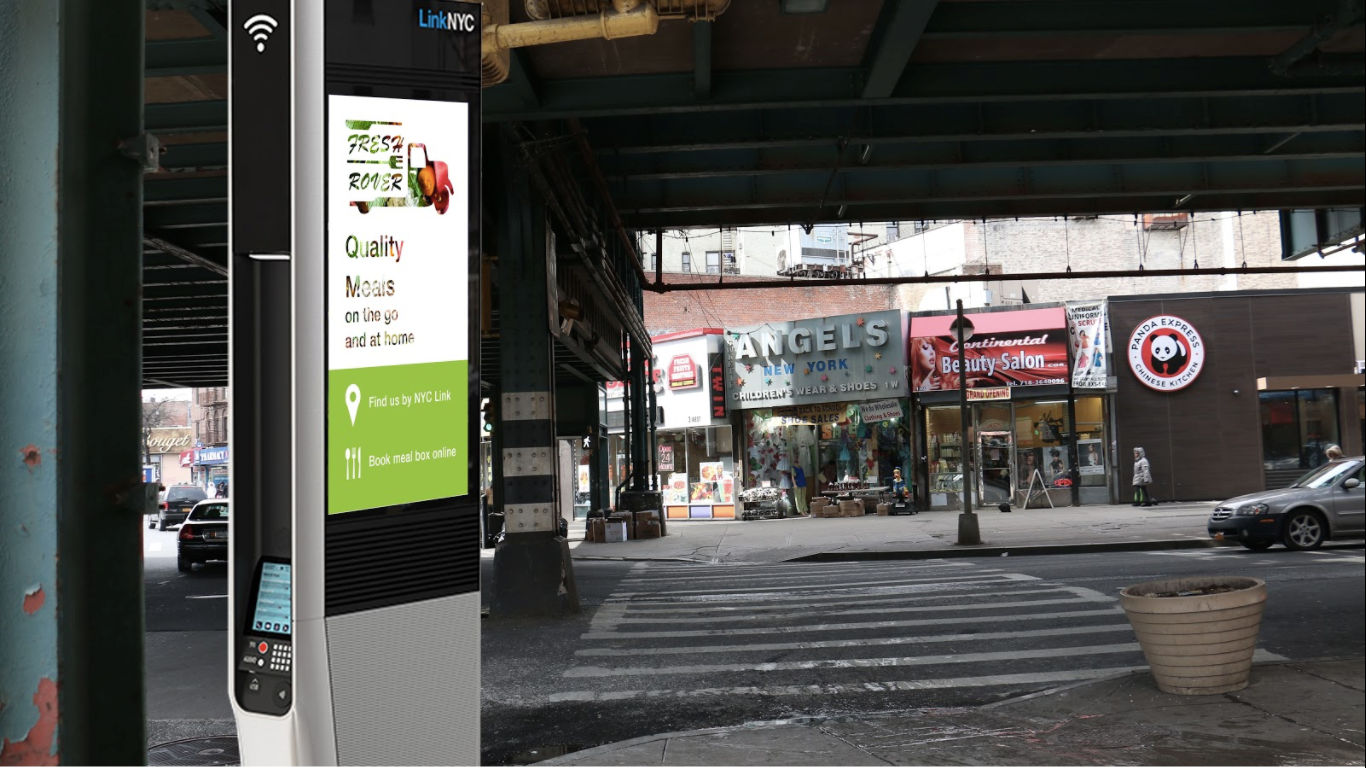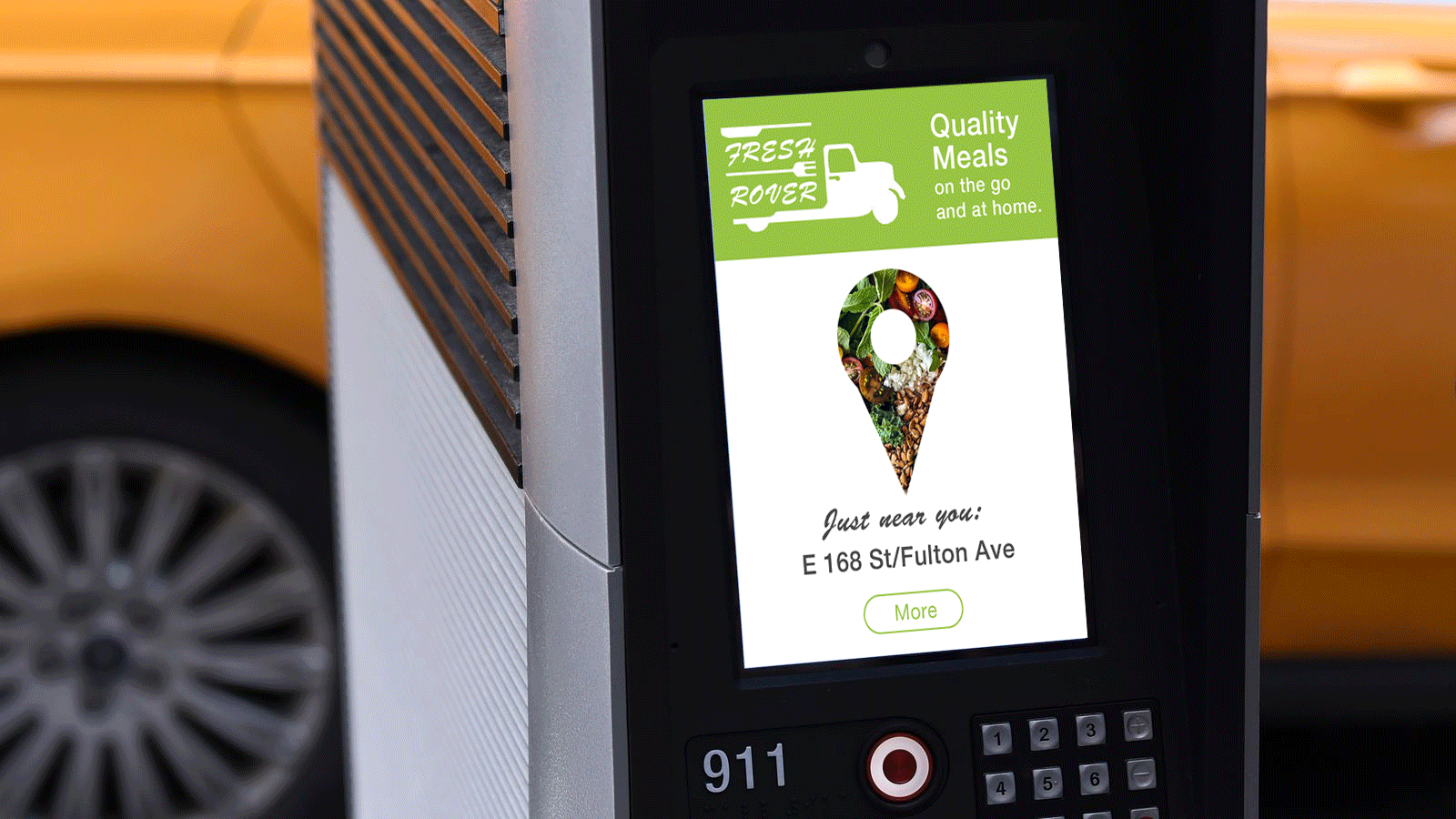 Below is a full service map and storyboard of the Fresh rover's journey. The Fresh Rover leaves its factory at 5:00 pm Monday Wednesday, Friday, and Saturday to pick up leftovers from the Green Market. After which, it is brought back to the factory to be washed and prepped to be served the next day. Once it is ready, the rover goes to its location the next ready to serve the underserved.